Term replacements are words that you have the ability to change throughout the system.
Default Term is the automatic word that's used to describe a feature within your career center system.
Sample Value is the option for another name you can use for a given feature.
With proper admin access, you can replace a term by going to Configuration>Terms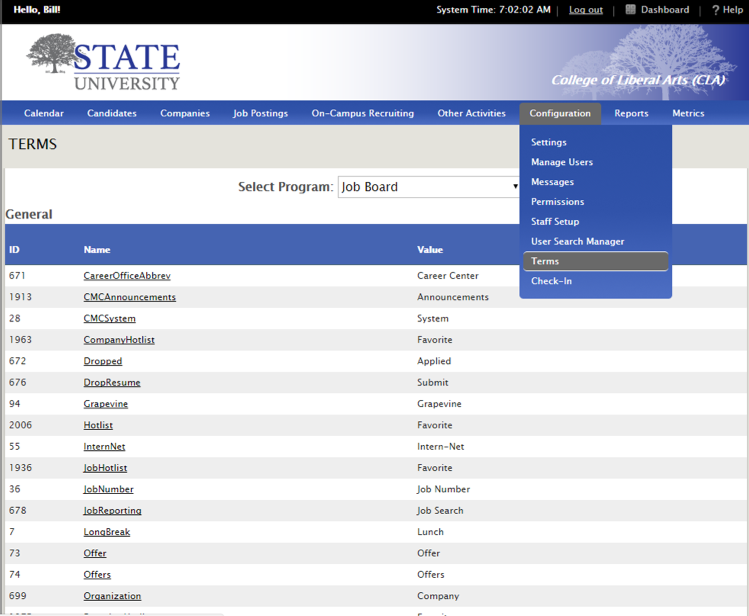 Then click on the name of the term you'd like to replace, change it, and  Save.

Below is a complete list of all the editable terms divided by category.
Note: Some terms may vary per program (PID).
General
| | |
| --- | --- |
| Default Term | Sample Value |
| CandidateAttachments | Attachments |
| CareerOfficeAbbrev | CSO |
| ChatChannel | Chat |
| ChatDirectMessage | Direct Message |
| ChatParticipant | Participant |
| ChatSubscribe | Subscribe |
| ChatSubscribed | Subscribed |
| ChatSubscriber | Subscriber |
| ChatSubscription | Subscription |
| CMCAnnouncements | CMC Announcements |
| CMCSystem | System |
| Cohort | Cohort |
| CompanyHotlist | Hotlist |
| Dropped | Applied |
| DropResume | Drop Resume |
| Grapevine | Grapevine |
| Hotlist | Hot Jobs |
| InternNet | Intern-Net |
| JobApplicationMergeDocument | Document |
| JobHotlist | Hotlist |
| JobNumber | Job Number |
| JobReporting | Job Reporting |
| LongBreak | Lunch |
| Offer | Offer |
| Offers | Offers |
| Organization | Organization |
| Recruiter | Contact |
| RecruiterHotlist | Hotlist |
| Recruiters | Contacts |
| Resume | Resume |
| ResumeReview | Resume Review |
| ShortBreak | Break |
| Sms | SMS |
| Staff | Staff |
OCR Process
| | |
| --- | --- |
| Default Term | Sample Value |
| AlternateStudentSignupStart | Alternate Student Signup Start |
| BacktoBack | Back-To-Back |
| Candidate | Candidate |
| Candidates | Candidates |
| CareerFairBooth | Booth |
| CareerFairLobby | Lobby |
| CareerFairQueue | Queue |
| Closed | Closed |
| CompanyEvent | Company Event |
| CompanyEventSchedule | Panel |
| DatePeriod1 | Date Period 1 |
| DatePeriod2 | Date Period 2 |
| Fcfs | Free Signup |
| FinalDeadline | Final Student Deadline |
| Finalize | Finalize |
| InviteAcceptEnd | Invitation Accept End |
| InviteAcceptStart | Invite Accept Start |
| Invited | Invited |
| InviteDue | Invites Due |
| InviteList | Invite List |
| Limitedfreesignup | Invite List |
| MultiJobVisit | First Free Signup |
| NotAccepted | Multi-Job Visit |
| NotInvited | Not Accepted |
| Ocr | Not Invited |
| Open | OCR |
| ResumeDrop | Open |
| ResumeDropOnly | Resume Drop |
| RoomReservation | Resume Drop Only |
| Round | Room Reservation |
| Visit | Interview Week |
| VisitDate | Visit |
| VisitHotlist | Visit Date |
| VisitWaitlist | Hotlist |
Advising/Workshops/Mocks
| | |
| --- | --- |
| Default Term | Sample Value |
| Advising | Advising |
| AdvisingLongBreak | Unavailable |
| AdvisingShortBreak | Break |
| Advisor | Advisor |
| Advisors | Advisors |
| CheckIn | Check-In |
| CMCPointPerson | CMC Point Person |
| MockInterview | Mock Interview |
| MockInterviewType2 | Mock Interview Type 2 |
| NoShow | No Show |
| PeerAppointment | Peer Appointment |
| PeerAppointmentLongBreak | Long Break |
| PeerAppointments | Peer Appointments |
| PeerAppointmentShortBreak | Short Break |
| Workshop | Workshop |
Web Resume Template
| | |
| --- | --- |
| Default Term | Sample Value |
| ResumeTemplate | Web Resume Template |
| ResumeTemplateCertifications | Resume Template Certifications |
| ResumeTemplateContact | Contact / Heading |
| ResumeTemplateEducation | Education |
| ResumeTemplateExperience | Experience |
| ResumeTemplateExperienceValueAdd | Resume Template Experience Value Add |
| ResumeTemplateObjective | Objective |
| ResumeTemplateOther | Other |
CareerTracker
| | |
| --- | --- |
|  Default Term | Sample Value |
| CSOAddedTask | CSO-Added Task |
| MyCompanies | Companies |
| MyCompany | Company |
| MyContact | Contact |
| MyContacts | Contacts |
| MyJob | Job |
| MyJobs | Jobs |
| MyJobSearch | Job Search |
| MyTask | Task |
| MyTaskEnterProgress | Enter Progress |
| MyTasks | Tasks |
 Co-op
| | |
| --- | --- |
| Default Term | Sample Value |
| AddCoop | Add Co-op |
| Coop | Co-op |
| CoopTimeline | Timeline |
| FinalEmployer | Final Employer |
| FinalStudent | Final Student |
| LearningObjectives | Learning Objectives |
| MidTermEmployer | Mid-Term Employer |
| MidTermStudent | Mid-Term Student |
| Semester | Semester |
 Learning
| | |
| --- | --- |
| Default Term | Sample Value |
| LearningModule | Module |
| LearningModuleExam | Quiz |
| LearningModuleLesson | Lesson |
| LearningPackage | Course |
| LearningPackageExam | Exam |
| LearningPackageSyllabus | Syllabus |
| LearningPackageTranscript | Transcript |