How to Print Nametags with the Check-In Module
How to set up nametag printing
1. Click on Configuration > Check-In
2. Printing nametags requires purchase of the Dymo LabelWriter 450.  Click on the hyperlink to access further information for purchase.
3. Download Software/Driver v8.7.2 by clicking on the hyperlinks. This will be required for any computer using the Dymo printer to print nametags.

4.  Click on Configuration to open the Configuration page. (Do not hover to pull up the menu). 

5. Select the Check-In tab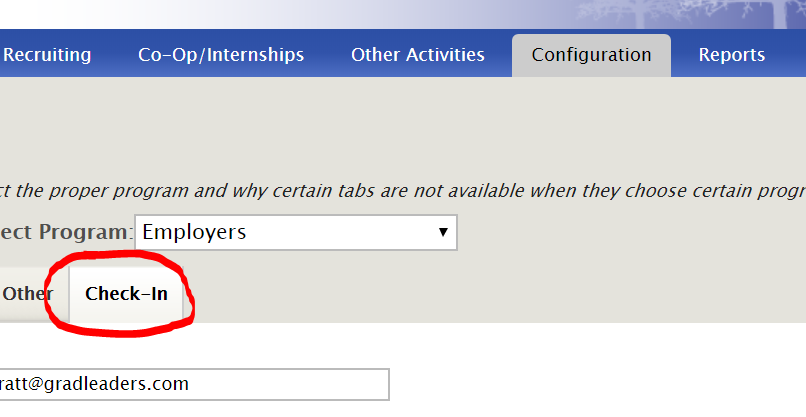 6. Click on Download standard nametag template and download the template.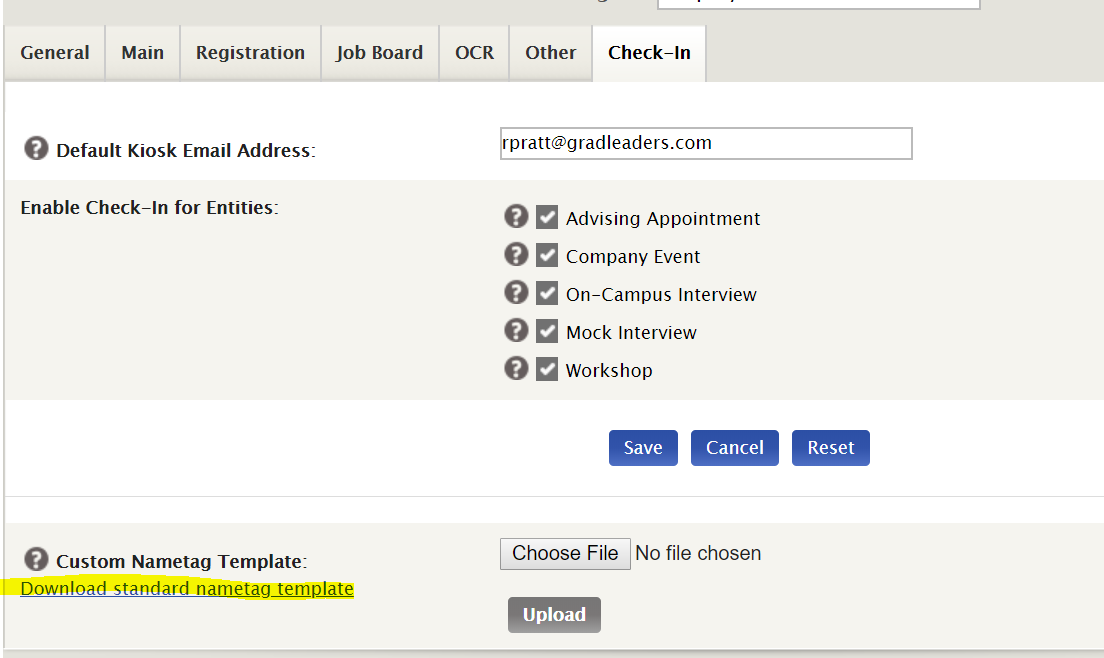 This will download the standard template format into the Dymo software.  (Choose File and Upload are used to upload a customized nametag template explained later in this guide.)
How to Print Nametags
7. Open Company Event, Appointment, or Interview Detail screen.
8. Click on Start Company Event, Start Advising, etc in the Check-In section to the right.  Click on the Hyperlink in the pop-up message.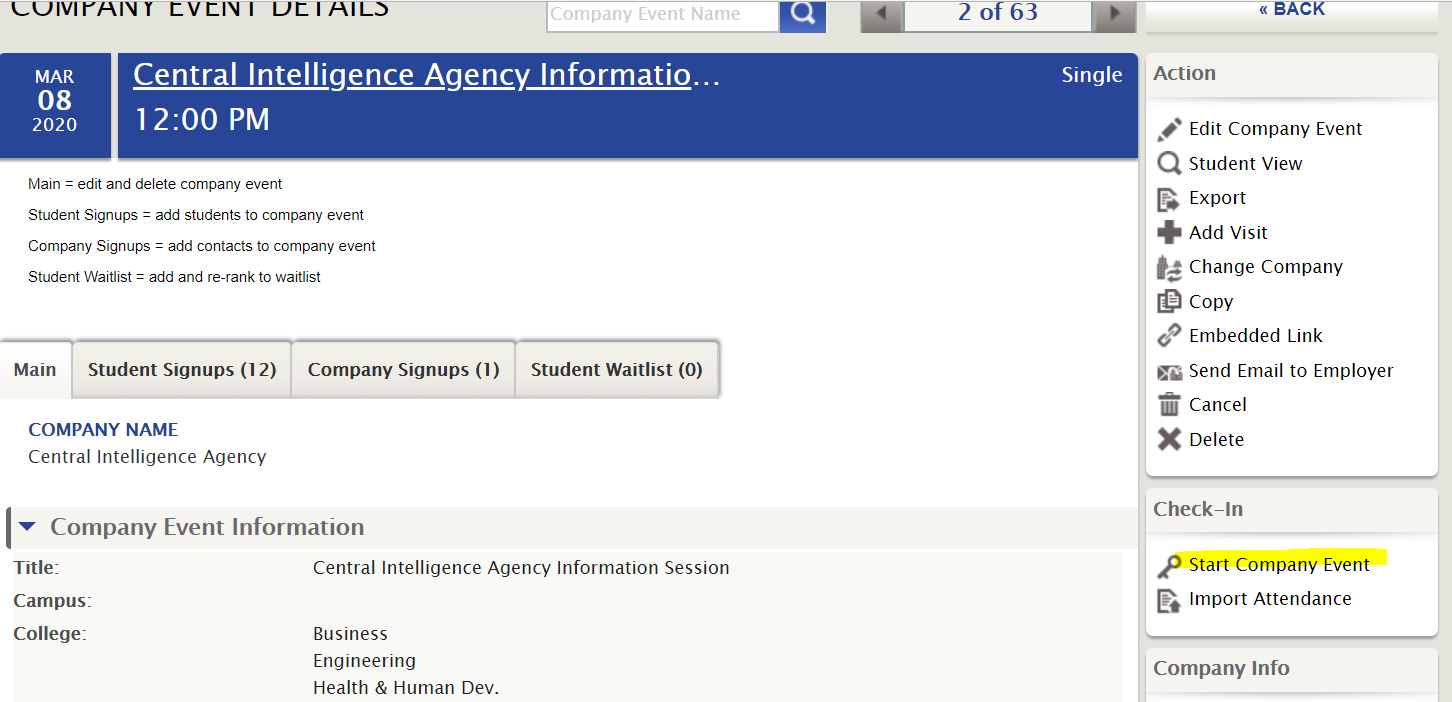 9. Enter the global password.
10. Select appropriate settings.  Make sure that Nametag Printing is Enabled.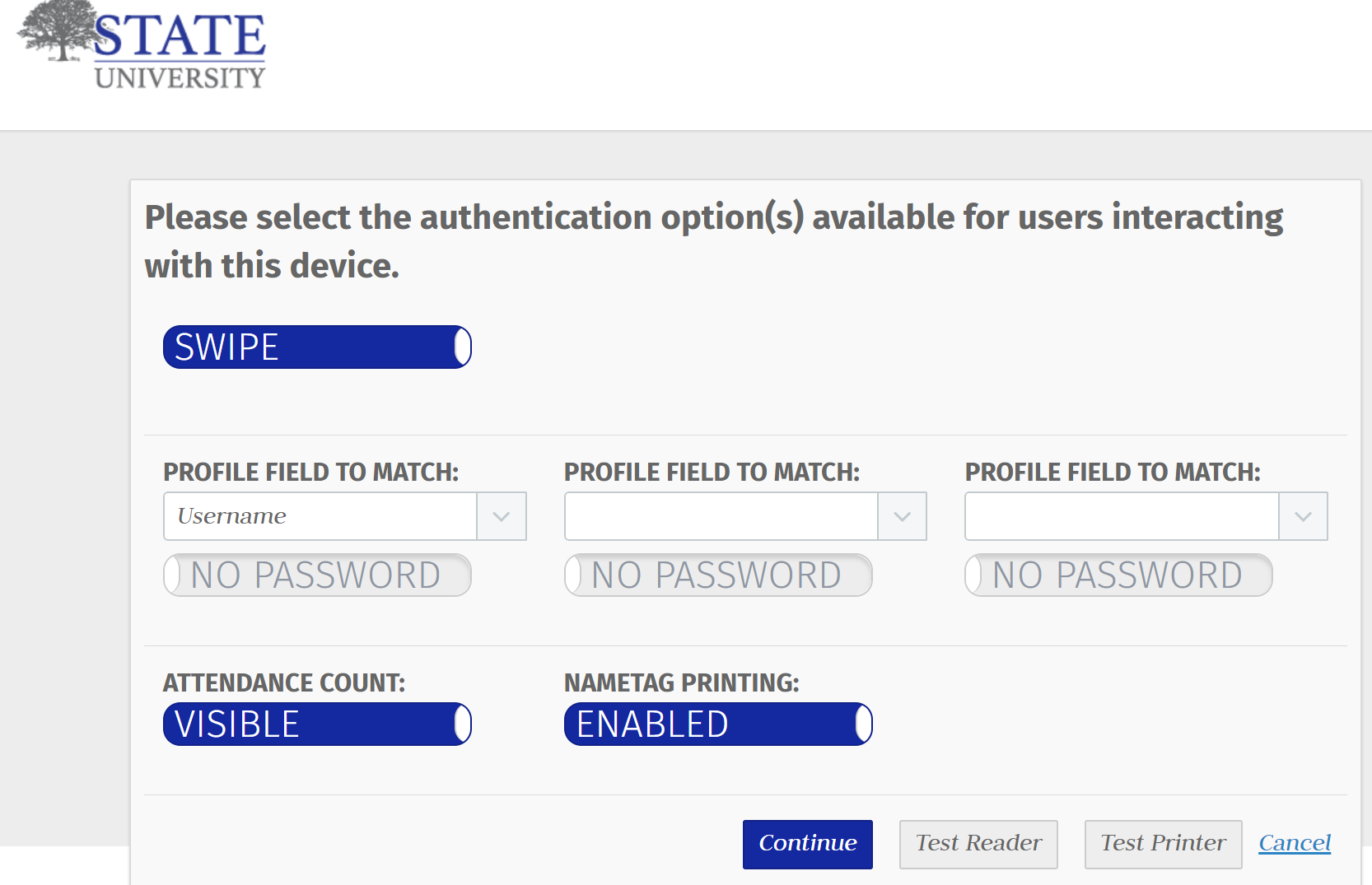 11. To test printer, click on Test Printer.   Nametag will print on the Dymo printer.  NOTE: It is highly recommended that you test nametag printing in advance of any event to ensure set up is correct. 
      * If this message appears, it indicates one of the following:

The printer is not connected
The proper DYMO software has not been downloaded (see Steps 1-6 in How to set up nametag printing).
Default Layout for printed nametags
Nametag printing supports the following fields ONLY:
First name
Last name
Major + Class Year
The nametag format can be changed in the Dymo software but only the above fields are available for printing. 
Default format: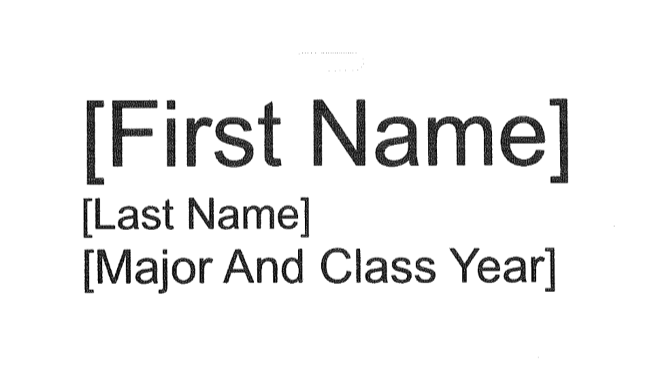 Printed Nametag using default format: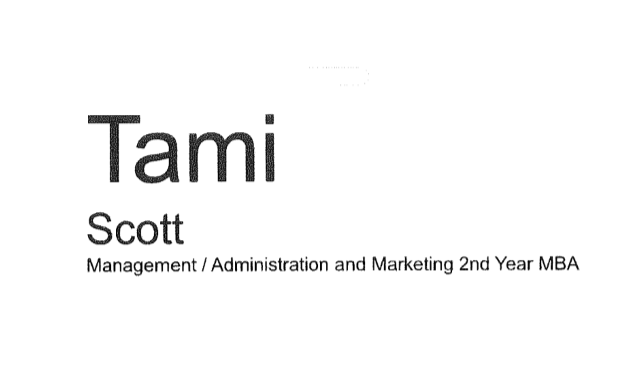 To change the default layout or font of the printed nametag:
In the Dymo software, click on File > Save As to save a new file.  You may change fonts, font sizes or move fields.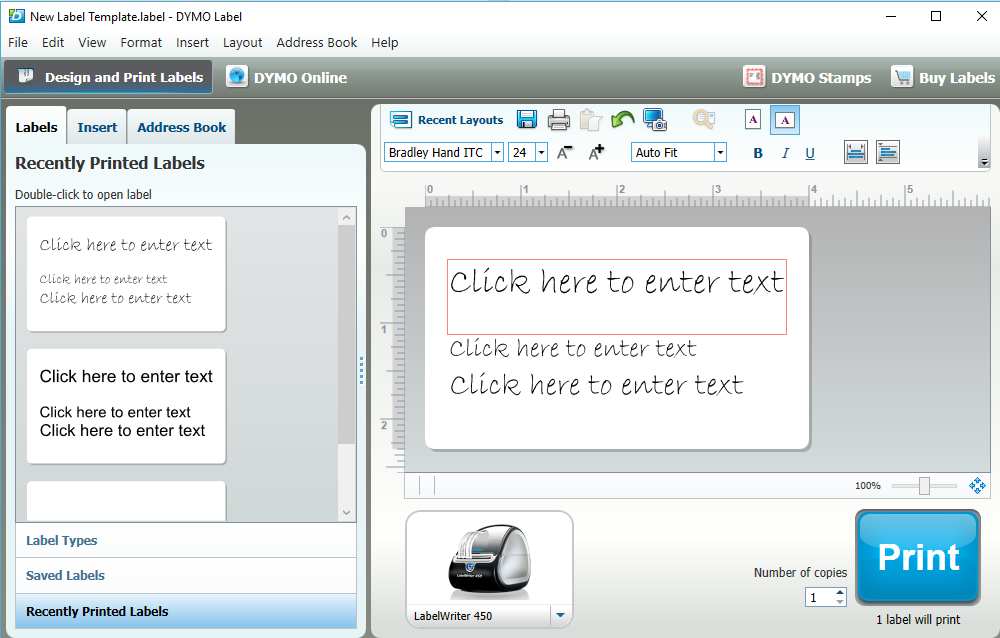 To Upload the new file:
Click on Configuration / Check-In tab (see Steps 3 & 4 in How to set up Nametag printing). 
Click on Choose File (go to file location and select file)
Click on Upload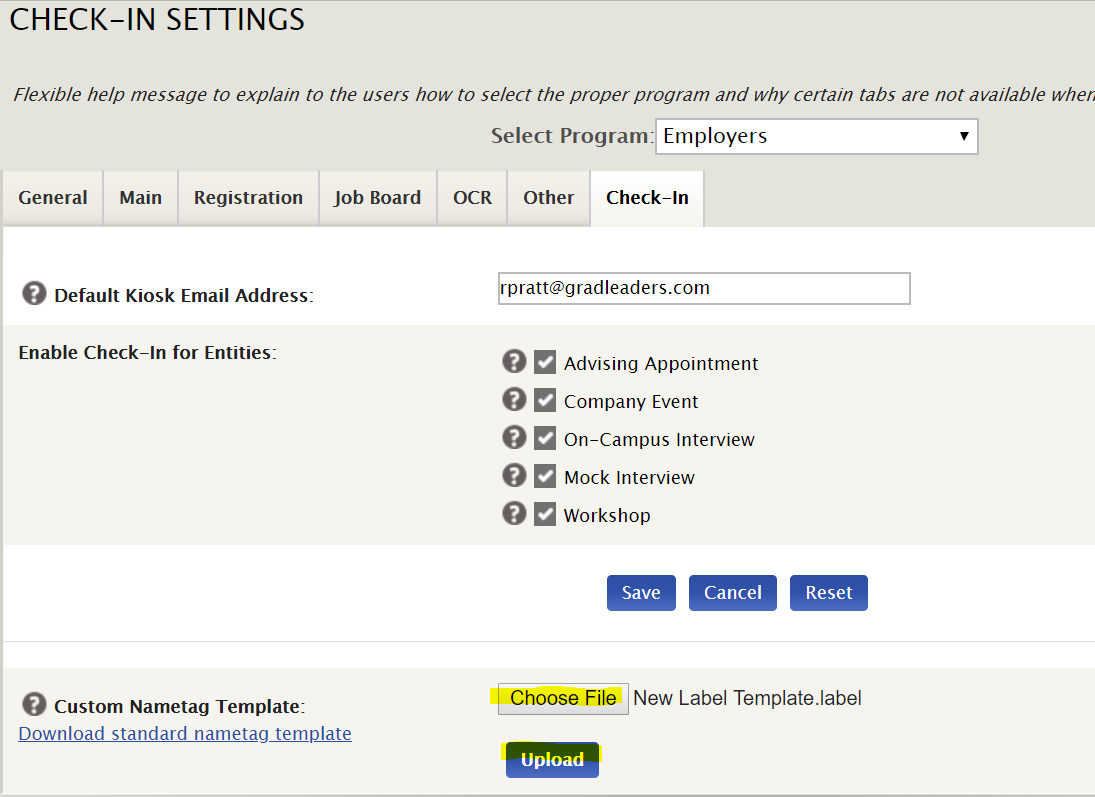 The new custom nametag template will appear. 

** If changing nametag templates after an event has been launched for Check-In, click on the Lock in he top right to of the Check-In screen to re-set.

This will require that you re-enter your global password and access the Check-In set up screen. 
From here, you can click on Test Printer to make sure the new format is used.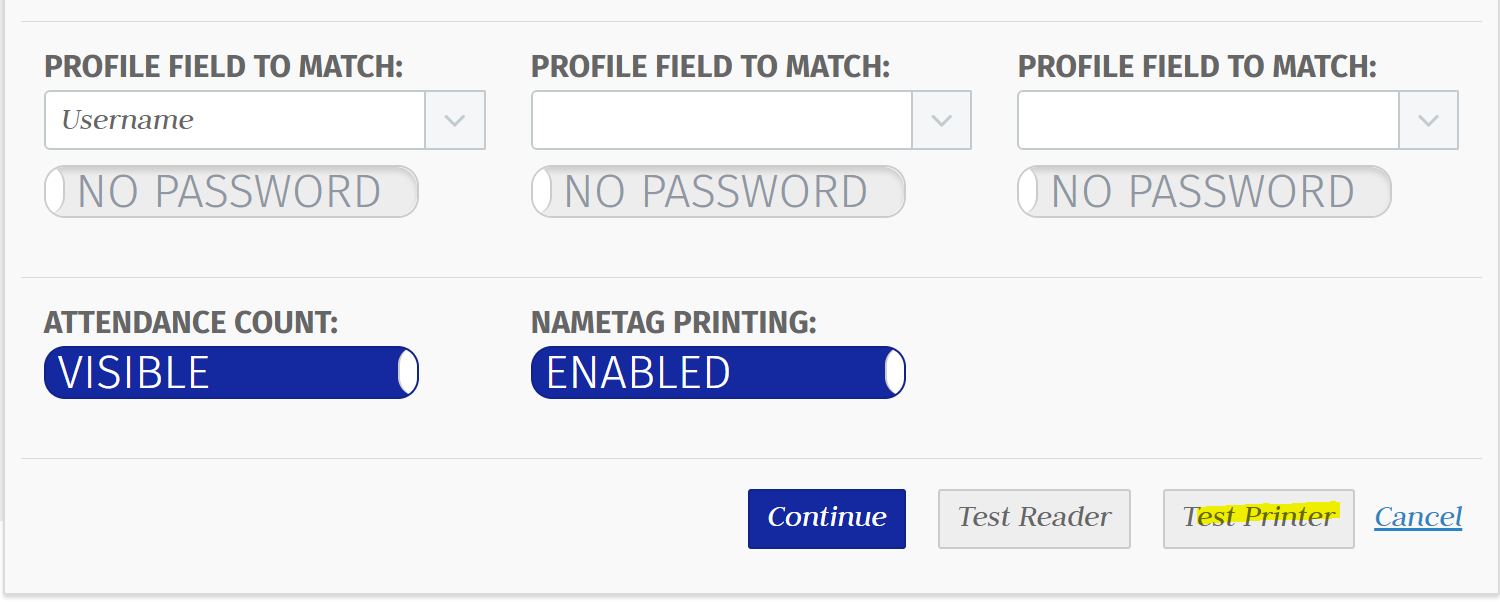 NOTE: The GradLeaders Career Center platform is integrated with the Dymo software to print labels.  GradLeaders is happy to provide this added service but does not support the Dymo software beyond instructions shown here.  To learn more about how you can use the Dymo program, click on Help in the Dymo Label Application.